This post may contain affiliate links, which means I may earn a small commission from purchased products at no additional cost to you. See my full disclosure here.
The end of another school year is always a reason to celebrate. Just ask any kid! This school's out celebration helps you connect with the kids in your church and gives them an opportunity to invite their friends to the party! Events like these are a perfect place to give unchurched people a chance to experience your church family in a very relaxed way.
So let's have a party to start the summer season with fun!
Plan Your School's Out Celebration Around A Theme
It's easy to plan a party around a theme. Your decor, food, games, and devotions can all center around that theme. Since this is a summer kick-off party, try a beach theme. Those items are easy to find, both in stores and by borrowing from folks in your church. Beach decorations are bright, fun, and inviting for guests of all ages!
Beach Theme Decorations Are Colorful & Fun
Blue tablecloths represent water! Use some grass hula skirts for a fun touch or to wear during a game. Try making your own 'tiki hut' to serve refreshments from. You can adorn it with festive paper flower garlands and colorful wall hangings. Don't forget those cute umbrellas to put in your punch cups!
Blow up beach balls and hang them from the ceiling with a fishing line. It's easy to make centerpieces from sand pails on their side with sand spilling out, adorned with shells and pebbles. This is where you can involve others in your small church by asking them to bring in shells and beach items.
Photo booths add a fun and interactive element to any party! Hang a tablecloth on the wall for a solid background. Then decorate in front of your backdrop with items like a beach umbrella, towels, and a beach chair.
Fun sunglasses and beach hats are great for people to use as props and can be so much fun.
A "School's Out-Let's Celebrate" banner and some balloons will add to your festive atmosphere!
You'll see photo booths can be used as an outreach tool in your small church. Check out the #2 activity in Increase Your Church Visibility At Local Festivals.
Set The Tone At The Front Door
Post greeters at the door to welcome your guests and direct them where to go next. This is a wonderful opportunity to get some of the older people in your small church involved and engaged. It also promotes intergenerational ministry!
Greeters can give your guests a lei to help set that fun tone for the event. Play 'beach music' in the background. Classic Beach Boys or steel drum music are fun choices!
Set up an area where your guests receive a name tag. We want everyone to be on a first-name basis. This also makes your guests feel less intimidated and more like family!
It's Time To Play Games!
No party for kids is complete without some games.
Games give our guests:
Fun interaction with each other
Opportunity to build teamwork skills
Time for laughter
Great photo opportunities for social media!
Three Beach Games For Small Churches
Beach Bingo Blitz
Make custom Bingo cards for your game. There are several places online where you can do this for free. The card should have each space representing a category. Find someone in the room who fits it.
Traveled to the Pacific Ocean
Enjoys a pool at their house
Sat on a boat
Saw a whale in the ocean
After you hand out the cards, give them 3 minutes to see how many people they can get to sign the blocks on their cards. (Only one person per block, unless you have a limited number of guests, then they can sign as many as apply to them.) The player with the most blocks signed at the end of the time wins. You can also just play for the purpose of getting to know each other; no winner necessary!
This game is used as an icebreaker for your guests. Read about why it's a good idea to do them at your events in our post, Why Icebreakers Are Important In Small Churches.
Beach Ball Hockey
Materials needed: beach ball, inflatable pool noodles to use for your hockey sticks, and painter's tape to mark the floor for your goals.
Divide players into two teams. Encourage each team to come up with a beach-themed name. Team names help to cheer them on!!
Mark your goals out at opposite ends of the 'playing field'.
Players use their noodles as hockey sticks to hit the ball into the other team's goal.
Teams get 1 point for each score.
Acknowledge the winning team with a fun prize or even a medal!!
Stuff A Beach Bag Relay Race
This game is fun and is based on the age-old problem of trying to carry too many items to the beach!!
This is a relay race. Break your guests into two teams. If you don't have enough for that, it's okay. You can do this as an individual competition. Just time each person. Place items to be packed in the beach bag on a table on one side of the room with the starting line on the opposite side.
You will need two large beach bags and identical stacks of items to 'stuff' in them. Gather items from people in your church, your closet, or a discount or thrift store.
Suggested Items:
Beach towels
Flip flops
Sunscreen
Sunglasses
Beach pail
Sand toys
Floatie ring
Magazine or Puzzle book
Water bottle
Snacks
Hand the first person in line the beach bag. When you say GO, the first person runs down to the pile and puts in 1 item. They return to the line and hand off the bag to the next person in line. After that, the player goes to the back of the line.
Continue going through the line in this fashion until all the items are in the bag and brought back to your line. Some people may need to go through multiple times.
The first team to fill their beach bag wins!! Celebrate with snack time!!
Looking for a step-by-step to starting or restarting your children's ministry?
Check out the Children's Ministry Bundle For Small Churches!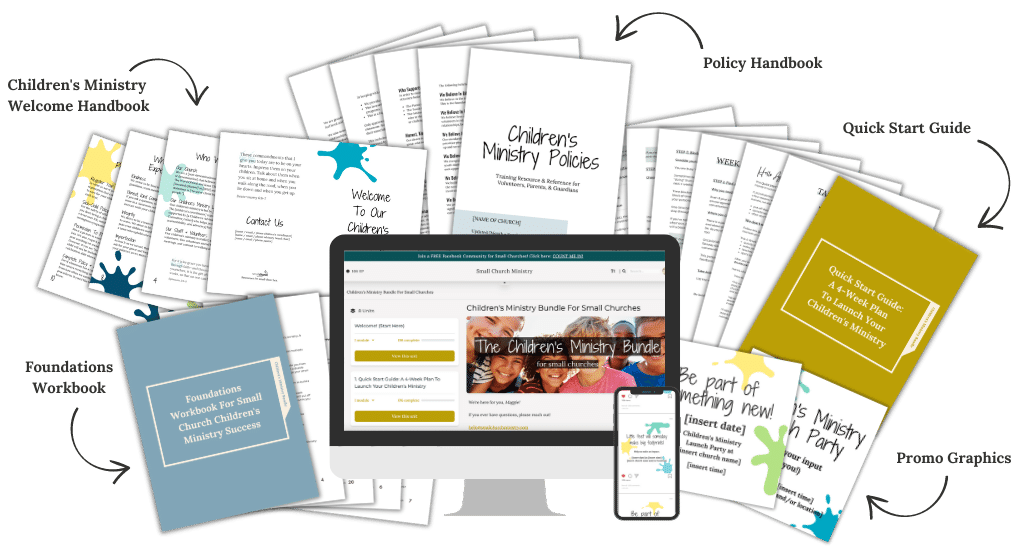 Plan Food & Tableware Around Your Theme
Continue to carry on the fun and theme for your party with your snacks! Before your event, recruit adult helpers to prepare and serve your food. This adds another connection point between the people in your small church and your guests.
Serve beach-themed refreshments. It should be fun and casual. Hot dogs and chips are fine. Serve punch with fun drink umbrellas. Follow with watermelon for dessert! Serve your food on beach-themed paper goods for an added touch.
Close Your Party With Connection
Gather everyone on your 'beach' for a time of devotion and final connections. Gathering at the end of your event is a great time to invite your guests to other ministries in your church.
For your devotion, talk about Matthew 7:24-27, The Wise and Foolish Builders. End by singing the song, "The Wise Man Built His House Upon the Rock."
Send your guests home with a party favor as a final point of connection. Include a written invitation to your church and its ministries and a thank you for coming today!
Try this great party favor idea. Fill the containers (Sand Pails, Beach Gift Bags, or Mesh Bags) with items like beach balls, bubbles, lollipops, notepads, or pencils. If you know someone with a large shell collection willing to donate some shells, include a shell in the bag too.
For more fun games to do with kids over the summer months or to include in your School's Out Celebration, check out the Water Games For Summer Fun.
Small Churches Can Make A Big Impact
Your small church can make a big impact on the children in your community by celebrating the start and finish of the school year. Local schools can provide our small churches with opportunities for showing God's love and serving others. Find great ideas to connect with your schools in 33 Ideas To Partner With Local Schools.
We hope you discover fun events like these can encourage relationship-building with the children of your small church and new children in your community. Outreach events also give you the ability to encourage all ages of your church family to get involved in ministry. That's how Jesus designed it to be; all ages working together, serving side by side, and reaching out to those around us!
Read More:
One Year Of Monthly Saturday Children's Events
Top Small Church VBS Family Night Ideas